Enjoy a premium
Perth Craft Beer Tour
with exclusive brewery experiences in the Swan Valley
Just a short 30 minute journey from Perth's city centre, the Swan Valley is home to a range of outstanding boutique craft beer producers. With our exclusive small group tours (maximum 10 guests) spend the day enjoying an extensive range of craft beer tasting paddles fresh from the tap as well as a delicious pub meal lunch and pint of beer on this all-inclusive tour.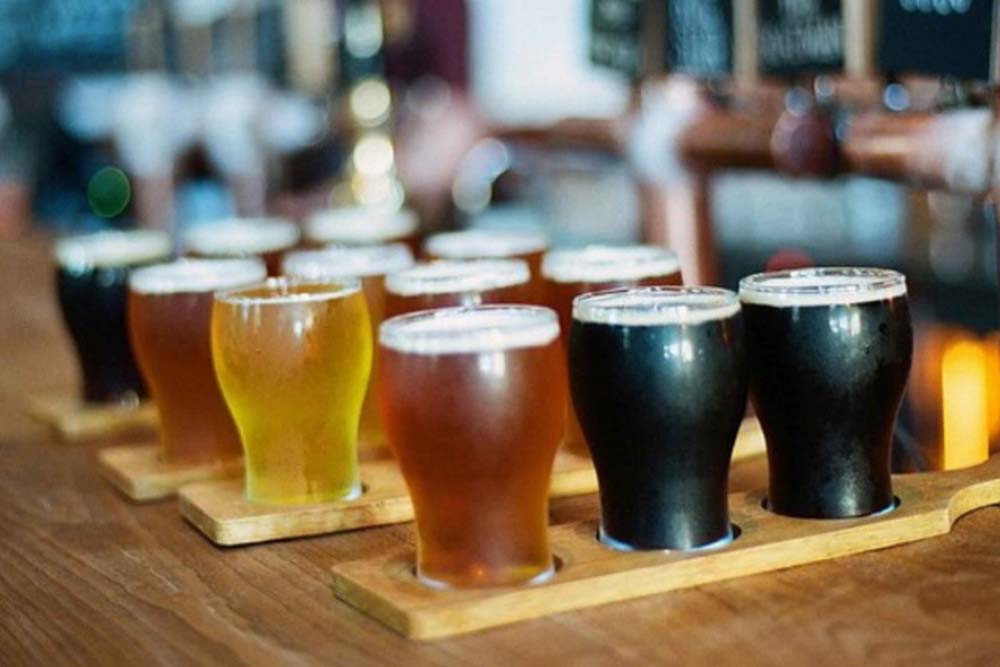 Premium Craft Beer Sampling
We have selected 3 of the best and most respect breweries in the Swan Valley for you to enjoy a range of locally produced craft beers directly from the tap. With up to 15 different craft beer samples of beer throughout the day from Pilsners to Pale Ales and Stouts to Sours, you can be assured you will discover a range of beers you love.
Learn About Craft Beer Making
There has been a global explosion of craft beer making throughout the world and with so many different styles of beer and brewers adding their own unique flare, understanding the different types of beers can be an overwhelming experience. With our exclusive brewers on hand along with your expert Tour Guide you will get to discover the world of beer as you enjoy your samples throughout the day.
Delicious Pub Meal Lunch + Pint
There is nothing quite like a delicious pub meal lunch and you will have your choice from a range of outstanding pub meals with something for everyone. We cater all dietary requirements and with an additional pint of your choice also included which you choose form an exclusive craft beer tasting paddle, you can be assured that your lunch experience will be a highlight of the day.
Guaranteed Small Group Tours
Don't be just another number in the crowd. Best of Perth Tours always guarantees that we will never have more than 10 guests on any tour to ensure you have a much more personable experience with customer service and interaction with the Tour Guide and staff at every venue. Make a day of it with friends or make new friends on the tour!
Our Latest
Reviews
Don't just take our word for it. Check out our most recent reviews to learn more from some of our guests who have experienced our tours.

Awesome birthday present! - Highly Recommended tour A great day from start to finish, it was my first time in the Swan Valley Region and we visited three breweries, it ended up being a private tour on that day so we were lucky to have Tim, the tour guide, for ourselves, he knows so much about wines and beers and he is always happy to share all his knowledge about the region as well. He was very attentive at all times and quite flexible with the time frame so we got lots of times to enjoy the beers in every place. Lunch was a very nice burger with chips at Feral Brewing Company and we also got a pint of beer 🙂 Highly recommended tour if you are a beer or wine lover!

Swan Valley Beer Tour Friendly, Helpful, Trusting, Very flexible to create personalised itinerary and best of all - a great day out! Would go again

Amazing Tour - Highly Recommended This was a fabulous wine tour and by far the best we've been on to date. We learned so much more than on previous tours and actually feel we understand more about the wines we like. The wineries were well considered and provided us with a broad overview and insight into the Swan Valley Wine RegionTim is an excellent guide (very knowledgeable about wine too) and has a deep commitment to ensuring his guests walk away having had a very memorable experience.

Thoroughly enjoyable. Stepped out of my comfort zone to do this tour by myself after being stuck in WA following Covid-based interstate travel restrictions. I would normally do this type of thing with my wife, so I was apprehensive about how much I might enjoy it going solo. I needn't have worried. Tim ensured that the tour was relaxed & informative. The wineries we visited were run by knowledgeable, passionate & fascinating characters who made us feel very welcomed.I recommend this tour and would readily do it again.

E_and_L_Douglas
2020-08-29
Lovely day-out in the Swan Valley Lovely day out to take in the sights of our Swan Valley. Small group; plenty of room for social distancing and sanitizer available. Bus spotless. Sampled some lovely wines in quality, lesser known vineyards including delicious cheese-board for morning tea and a lovely lunch in one of the vineyards. Finished with stops for beer, choccies and coffee. Value for money. Tim, very knowledgeable, even threw in a bit of history of the area and no pressure to be anywhere, so very relaxed day. Definitely recommend.

Couldnt have asked for a better birthday A brilliant day from start to finish. Tim knows loads about the wine making process and loves to share. We visited several carefully selected vinyards with the friendliest staff making us feel welcome and relaxed and got to sample some outstanding products. Lunch was first class in an awesome setting with even more fine wines to try. You wont be disappointed if you choose one of his tours.

Awesome day around the Swan Valley Had an awesome day in Swan Valley expertly guided by Tim who had some awesome insights into the region and took us to some great places off the beaten track. Perfectly designed tour showcasing the best the region has to offer

Tim is the best! 🙂 We are very lucky that on our first day in Australia we met Tim and Perth: his trip and kindness and knowledge amazed us, we fell in love with the country not only the city immediatelly. The tour was great more than we expected with sweet surprises like cheese and wine :))

Behind the scene wine tasting experience Awesome wine tasting experience with Tim in the Swan Valley. The small group set up allows more flexibility, originality and fun than usual tours. Thanks to Tim, we discovered local wines and secrets spots. Should you be interested in Australian wines, I would recommend to book that tour.

Awesome Day Out with Tim! It was our first visit to Perth – yet alone the Swan Valley. The tour was an awesome choice for us – as it provided a small group experience, coupled with some entertaining commentary (thanks Tim) regarding the regions history; vineyard processes (aka – the grape lifecycle!) and tremendous scenery.We were collected from our Perth City hotel and transported in a comfortable small bus to the Swan Valley. The day was very well planned – and definitely didn't feel rushed at all. We stopped at a number of local wineries – and treated to a backstage viewing at one of them – where the local family (Olive Grove Fames) treated us to several (actually, more than a dozen) wine tastings – accompanied by a delicious cheese platter.Lunch at another venue was equally tasty – accompanied of course, with more wine 😊 Last stop was a local chocolate delicacy – before the final (short) commute back to our hotel. All our wine purchases were treated with the greatest care – housed in Tim's vehicle (cooler box). Highly recommend this tour!
Get to know your
Tour Guide
Born and raised in Perth, your Tour Guide has over 10 years of experience both locally and internationally. We don't outsource our tours so you know exactly who is taking you on tour. Showcasing the very best Perth has to offer, get to know your Tour Guide before you choose your tour company.
LEARN MORE
Adults
---
$ 160 AUD p/p
Ages 18+ years
All-inclusive tour experience
---
Children
---
$ 80 AUD p/p
Ages 4–17 years
Special kids menu included
---
Infants
---
$ 50 AUD p/p
Ages 0–3 years
Baby seat provided
---
Sounds great!
I'm ready to book my Swan Valley craft beer tour.
SELECT A DATE BELOW TO GET STARTED
Please note – If tour date is not available or for last minute bookings please call +61 401 726 843 or email [email protected]
Searching Availability...
Searching Availability...