Enjoy a premium
Perth Craft Beer Tour
with exclusive brewery experiences in the Swan Valley
Just a short 30 minute journey from Perth's city centre, the Swan Valley is home to a range of outstanding boutique craft beer producers. With our exclusive small group tours (maximum 10 guests) spend the day enjoying an extensive range of craft beer tasting paddles fresh from the tap as well as delicious pub snacks and main course lunch on this all-inclusive tour.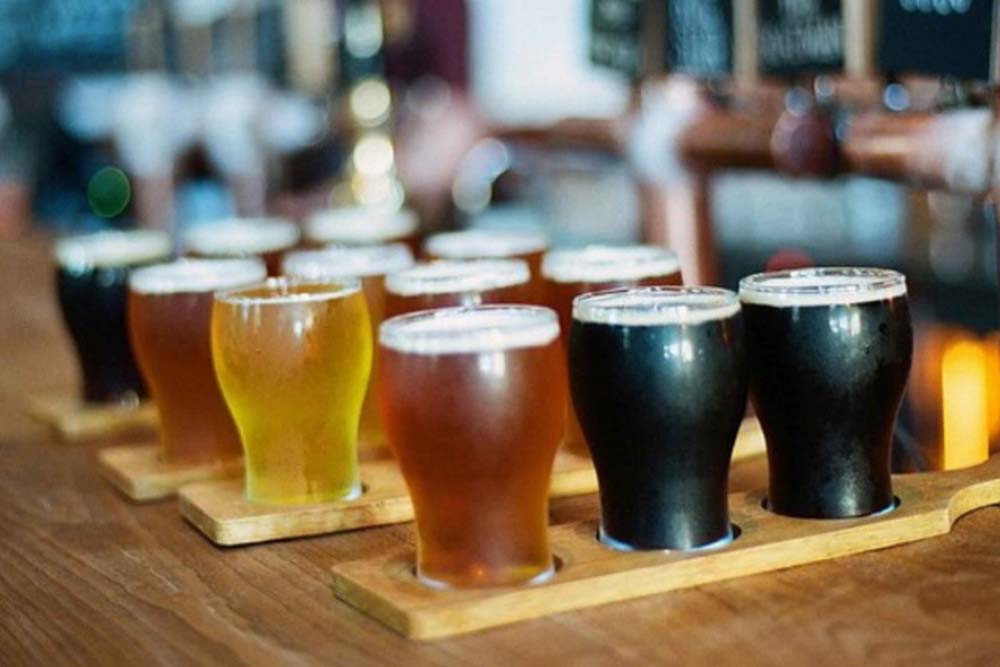 Premium Craft Beer Sampling
We have selected 4 of the best and most respect breweries in the Swan Valley for you to enjoy a range of locally produced craft beers directly from the tap. With up to 24 different samples of beer throughout the day from Pilsners to Pale Ales and Stouts to Sours, you can be assured you will discover a range of beers you love.
Learn About Craft Beer Making
There has been a global explosion of craft beer making throughout the world and with so many different styles of beer and brewers adding their own unique flare, understanding the different types of beers can be an overwhelming experience. With our exclusive brewers on hand along with your expert Tour Guide you will get to discover the world of beer as you enjoy your samples throughout the day.
Delicious Pub Meal Lunch + Pint
There is nothing quite like a delicious pub meal lunch and you will have your choice from a range of outstanding pub meals with something for everyone. We cater all dietary requirements and with an additional pint of your choice also included which you choose form an exclusive craft beer tasting paddle, you can be assured that your lunch experience will be a highlight of the day.
Guaranteed Small Group Tours
Don't be just another number in the crowd. Best of Perth Tours always guarantees that we will never have more than 10 guests on any tour to ensure you have a much more personable experience with customer service and interaction with the Tour Guide and staff at every venue. Make a day of it with friends or make new friends on the tour!
Our Latest
Reviews
Don't just take our word for it. Check out our most recent reviews to learn more from some of our guests who have experienced our tours.

Tim is the best! 🙂 We are very lucky that on our first day in Australia we met Tim and Perth: his trip and kindness and knowledge amazed us, we fell in love with the country not only the city immediatelly. The tour was great more than we expected with sweet surprises like cheese and wine :))

Véronique O
March 31, 2020.
Behind the scene wine tasting experience Awesome wine tasting experience with Tim in the Swan Valley. The small group set up allows more flexibility, originality and fun than usual tours. Thanks to Tim, we discovered local wines and secrets spots. Should you be interested in Australian wines, I would recommend to book that tour.

Awesome Day Out with Tim! It was our first visit to Perth – yet alone the Swan Valley. The tour was an awesome choice for us – as it provided a small group experience, coupled with some entertaining commentary (thanks Tim) regarding the regions history; vineyard processes (aka – the grape lifecycle!) and tremendous scenery.We were collected from our Perth City hotel and transported in a comfortable small bus to the Swan Valley. The day was very well planned – and definitely didn't feel rushed at all. We stopped at a number of local wineries – and treated to a backstage viewing at one of them – where the local family (Olive Grove Fames) treated us to several (actually, more than a dozen) wine tastings – accompanied by a delicious cheese platter.Lunch at another venue was equally tasty – accompanied of course, with more wine 😊 Last stop was a local chocolate delicacy – before the final (short) commute back to our hotel. All our wine purchases were treated with the greatest care – housed in Tim's vehicle (cooler box). Highly recommend this tour!

myflyingeagle
March 16, 2020.
Private Tour of the Swan Valley with Tim We had a great day in the Valley with Tim, we were a small group of 4 adults and it was fantastic that none of us had to drive - everything was taken care of for us and we were treated like VIP's by all the places Tim took us to. Tim made it easy for us to book the tour and tailored it to our tastes - he was full of enthusiasm and we would strongly recommend him if you was an amazing day in the Valley. - Thank you Tim

Robbin Laird
March 12, 2020.
Great Visit The tour was really well done by Tim. Our group was five in all but sic inclusive of Tim. The vineyards chosen were all of interest and the proprieters very welcoming and the wines of very good quality.Tim did a great job of introducing the visit and explaining the way throughout the day.I highly recommend this visit to anyone coming to Perth who would like to visit the local vineyards
Get to know your
Tour Guide
Born and raised in Perth, your Tour Guide has over 10 years of experience both locally and internationally. We don't outsource our tours so you know exactly who is taking you on tour. Showcasing the very best Perth has to offer, get to know your Tour Guide before you choose your tour company.
LEARN MORE
Adults
---
$ 160 AUD p/p
Ages 18+ years
All-inclusive tour experience
---
Children
---
$ 80 AUD p/p
Ages 4–17 years
Special kids menu included
---
Infants
---
$ 50 AUD p/p
Ages 0–3 years
Baby seat provided
---
Sounds great!
I'm ready to book my Swan Valley craft beer tour.
SELECT A DATE BELOW TO GET STARTED
Please note – If tour date is not available or for last minute bookings please call +61 401 726 843 or email [email protected]
Searching Availability...
Searching Availability...