Treat yourself to an afternoon visiting
award-winning, boutique wineries
on this special Half Day Swan Valley Wine Tour
There is no better way to spend an afternoon than a trip to the beautiful Swan Valley region to sample your way through a range of outstanding premium wines from the regions best producers. With a gourmet main course lunch to start your tour, we will venture to the most respected boutique Swan Valley wineries the region has to offer. As Perth's only tour company to guarantee boutique, small group tours with a maximum of 10 guests per tour you can be assured of intimate and personal Cellar Door tasting experiences at each carefully selected Swan Valley winery. With a range of convenient pick up and drop off locations be treated like a VIP on this memorable afternoon Swan Valley tour experience!
Tour
Highlights
Located less than 30 minutes from Perth's city centre, the Swan Valley wine region is home to some of Australia's oldest wineries and it's uniquely warm climate produces a range of award-winning varieties and styles. Our boutique Swan Valley wine tours showcase the very best boutique wineries of the region with guaranteed small groups (max. 10 guests) to ensure you have an amazing personal experience at each venue.
Afternoon Swan Valley Tour Experience
Enjoy an afternoon with your internationally experienced, local Tour Guide as we visit the very best Swan Valley wineries the region has to offer. With years of experience and knowledge working with Swan Valley wineries, Best of Perth Tours has hand selected the very best boutique Cellar Door experiences where you will enjoy an extenive range of wine tasting experiences on our exclusive small group tours. From grape varieties that you are familiar with, to unique grape varieties that are uniquely suited to Swan Valley's warm climate, you can be assured your wine tasting experience will be an enjoyable afternoon of discovery.
---
Gourmet Main Course Lunch Options
We begin our afternoon in the Swan Valley with a delicious main course lunch at one of Swan Valley's most respected venues. With a range of options to choose from (including vegetarian, gluten free & vegan options) you will be sure to find something you love. With a glass of wine of your choice chosen from an exclusive Cellar Door tasting experienc a tht winery your first stop of the tour will be a memorable start to the afternoon. Other tour companies may only provide you with a cheeseboard or no meals included in their tour experience. For guests who want to enjoy a delicious lunch prepared by one of Swan Valley's best chefs, this is the tour for you!
---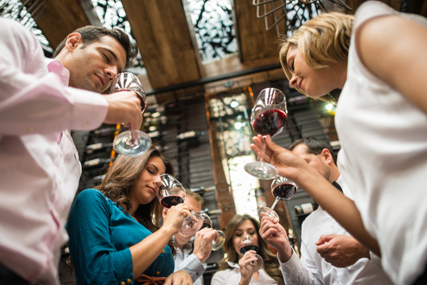 Exclusive Wine Tasting Experiences
Don't be just another number in the crowd. With our premium small tour group experiences, you can be assured of an intimate Cellar Door tasting experience at each winery. With your wine accredited Tou Guide and staff member dedicated to our tour group (sometimes even the winemaker themselves) you will have the opportunity to learn about the region, each of the wineries we visit and a broad range of wines throughout the afternoon. With the opportunity to sample a diverse range of white, red, rose, sparkling and fortified wines (including premium wines) at award winning boutique Swan Valley wineries,.you will be guaranteed y to discover new wineries that you truly love.
---
Convenient Pick Up / Drop Off Locations
Whether you are staying at a hotel in Perth, looking to spend the afternoon with colleagues for the afternon or just after a great day out, Best of Perth Tours offers convenient pick up service direct from anywhere in Perth's CBD as well as a range of additional convenient pick up locations. Sit back, relax and enjoy and afternoon of wine tasting and gourmet expewriences as you are chauffeured to the Swan Valley with your expert Tour Guide. Choose to finish the tour at your original pick up location, or if you are planning to continue your evening in the city you can choose to be dropped off at any location of your choosing.
---
Our Latest
Reviews
Don't just take our word for it. Check out our most recent reviews to learn more from some of our guests who have experienced our tours.
Verified
Excellent day Excellent day!Excellent wines!Tim was super knowledgable and brought us to some stand-out vineyards. The entire experience was just lovely. Thank you, Tim!
Verified
Wonderful tour The VIP Swan Valley tour was wonderful . We could not fault the day. Tim had amazing knowledge of Perth and the Swan Valley as well as each of the 4 wineries we visited. Each of the wineries we visited were lovely and it was great to go to the smaller wineries - as you truly get to see the love the wine makers have for what they do. The cheese board and lunch could not be faulted.The chocolate and Providore stop was well worth the visit. Thanks Tim - hopefully we can do another one of your tours when we next visit Perth
Verified
Holiday Friendly tour guide, very knowledgeable about the area that the tour is in, he makes the tour very relaxing & nothing seems to be to much trouble
Verified
A must-do in Swan Valley - Tim does not disappoint This was such a fantastic experience, would recommend to anyone visiting Perth!We booked this tour after reading all the glowing reviews for Tim on Tripadvisor, and we were not disappointed. Each winery we visited felt welcoming and had something different to offer. We were able to discover some new favourite wineries, which is always a bonus from doing a wine tour. We did some wine tours in Margaret River, and actually found that we preferred the wines produced in Swan Valley. The bus was comfortable, clean, and there was room to pick up a bottle or two as the day progressed.Thanks Tim for organising a great day!
Verified
A laid back taste of one aspect of the Swan Valley. The tour started spot on time and Tim, our guide, welcomed us like long lost friends. In fact it wasn't long before we felt like we had known him for years. We visited 4 craft breweries, all different in their own way and all with a varied selection of beers and some ciders. There didn't seem to be any time pressure at all and the tour was very relaxed, plenty of time to savour all the beers available. We had a very enjoyable lunch at the second brewery, in pleasant surroundings, complimented by the beer. Tim always made sure we well looked after. A most enjoyable, relaxed and enlightening (the range of beers was impressive) tour that we would recommend wholeheartedly to anyone keen on craft beers. Well done Tim.
Verified
A must if you'd like to sample local wines with a small group and a friendly, knowledgeable guide. We've just returned from our tour and can thoroughly recommend it. Tim is a very engaging and knowledgeable guide who kept us fully informed of where we were going and what we would be tasting at each stop. We were very lucky to travel with a lovely group and this certainly added to the joy of the experience. The selected wineries gave a different range of wines to try and lunch was delicious at our second stop. Finishing off at the chocolate factory added a sweet ending to the day before the trip back to our hotel. As the wineries are so close to the city, you don't have a long journey back at the end and even though the group were great fun, it's nice to be back in the hotel within the hour. All in all, a highly recommended tour for anyone who'd like to try the wines from the region.
Phillip C
March 27, 2023.
Verified
Great way to spend a day We were collected from our hotel at the exact time stipulated. Tim, our host was very friendly and knowledgeable and after a few more stops we were ready to go. We had just 11 in our group and everyone was chatty and easy to get on with. The vineyards that we visited were all amazing and were very welcoming and shared their stories of how they started and the lengths they go to to produce top quality wines. Following a visit to a chocolatier we were dropped back at our hotel. We aren't wine experts by any means but the day was fun, interesting and great value for money. Would highly recommend this trip.
Verified
A Wonderful Day with a small Group. All friendly and got along well together. Small group are the best. All parts were interesting and fun. All different in its way. Morning tea stop and lunch vineyards the best. Lunch excellent. Last two vineyards were unique as well.Nothing not to like. End of day stop at chocolate factory was a surprise that everyone liked. Many wine and chocolate purchases made during the tour. Driver and tour operator, Tim, was great, Totally recommend.
Verified
First class tour We had a wonderful day out with Tim touring the Swan valley wineries.There were 8 other people on the bus and all got along very well.The wineries were excellent.Food was also very good.Compared to tours we did in Barossa and Margaret River these wineries were much better.Highly recommend.
Verified
Excellent experience with vineyards 4 vineyards visited in one day was just perfect for tourists wanting to get most of their time ! Also meeting new people at lunch was wonderful as the tour was so multicultural ! You would be able to taste a variety of reds and whites as well as sparkling and fortified wines and if you wish you might be able to buy them on the spot !
Get to know your
Tour Guide
Born and raised in Perth, your Tour Guide has over 10 years of experience both locally and internationally. We don't outsource our tours so you know exactly who is taking you on tour. Showcasing the very best Perth has to offer, get to know your Tour Guide before you choose your tour company.
LEARN MORE
Adults
---
$ 140 AUD p/p
Ages 18+ years All-inclusive tour experience
---
Children
---
$ 90 AUD p/p
Ages 4–17 years Special kids menu included
---
Infants
---
$ 60 AUD p/p
Ages 0–3 years Baby seat provided
---
Sounds great!
I'm ready to book my Swan Valley Wine Tour.
SELECT A DATE BELOW TO GET STARTED
Please note – If tour date is not available or for last minute bookings please call +61 401 726 843 or email [email protected].
Searching Availability...