See the

very best of Perth

on this exclusive tour for cruise passengers
With an exlusive pick up and drop off directly from Fremantle Passenger Terminal, cruise ship passengers to Perth can sit back, relax and enjoy a spectacular day in Perth visiting the very best locations that the city has to offer. Visit majestic King's Park overlooking Perth's CBD, take a private tour of a wildlife park to meet Australian wildlife, enjoy a sumptuous lunch and wine tasting in the Swan Valley and take a drive down to Perth's amazing sunset coast.
Tour
highlights
Beginning the day as you step off the cruise ship in Fremantle, this all inclusive tour will take in the most beautiful and iconic locations that Perth has to offer. Your experienced Tour Guide will be your driver, waiter, historian and photographer for the day as you sit back, relax and are treated to a day of enjoyment.
Cottesloe Beach
Perth is famous for its world class beaches and Cottesloe is no exception. The crystal blue water and soft white sand is adored by locals and we offer you the chance to relax, bury your feet in the sand as well as grab an amazing photo to remember your trip.
---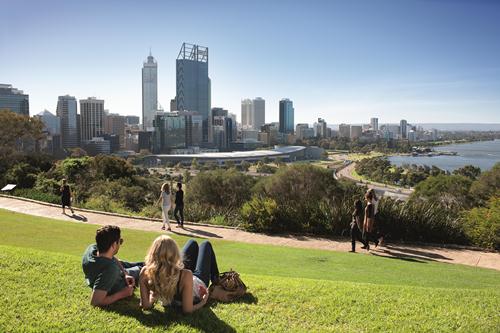 King's Park
Overlooking Perth's CBD, King's Park provides a spectacular panorama of the city and Swan River. In addition, the world class botanical gardens make this an absolute must visit. We take time for a stroll around the park, to visit the iconic WWII momument and grab a spectacular photo overlooking the city.
---
Elizabeth Quay & Perth CBD
The brand new $130 million precinct was completed in 2016 and brings together Perth's CBD and the Swan River. With amazing eye catching architecture around the inlet we stop to take in the sights and grab some memorable photos of your time in Perth.
---
Guildford Town Centre & Historical Commentary
The gateway to the Swan Valley, Guildford is an area with a rustic charm and some of the oldest remaining buildings in Perth dating back to the original European settlement in the 1830's. We talk about its significance in the development of the Swan River Colony that would later become Perth.
---
Swan Valley Winery Lunch
With some of the oldest wineries in Australia and over 180 years of wine making tradition, Perth is fortunate to be one of the only cities in the world just a short drive from an award winning wine region. We stop to take in one the Swan Valley's premiere wineries and enjoy lunch from a range of gourmet main course options prepared by one the regions best chefs. With wine tasting and a complimentary glass of wine included you will be able to relax and enjoy the gorgeous surroundings of this spectacular region.
---
Fremantle Town Centre
With over 300 heritage listed buildings the harbour town of Fremantle has it's own unique personality and a rustic charm reminiscent of the Victorian era. Exuding a relaxed artistic vibe whilst being a town steeped in history, we finish our tour in Fremantle to take time to appreciate the vintages facades and iconic buildings with plenty of time for guests to explore the town at their leisure.
---
Our latest

reviews
Don't just take our word for it. Check out our most recent Google reviews to learn more from some of our guests who have experienced the tour.
We had a great day with Tim, and appreciated his knwledge and choices of vineyards. I could have done without the rather tacky chocolate shop at the last stop, but that's just my taste. A very enjoyable day with some interesting wines.

Gregor Ronald


1/15/2019

Would highly recommend. My best friend and I were looking for a wine tour close to Perth, which involved a smaller group, high quality lunch options and access to the cellar doors of more boutique winemakers. This tour delivers all those things, and more. The wineries we visited offered a variety of experiences, lunch was gourmet in a gorgeous setting and transport comfortable. Tim is the ultimate professional: very knowledgeable about the area and the wineries we visited, but at the same time, down to earth and super friendly. He was flexible in terms of logistics, well prepared with water, a cooler for the wine and bubble wrap to protect the precious cargo we all brought home, and a true gent from start to finish. I would not hesitate to recommend this tour to others. Thanks again for the best day!

Laura Needham


1/11/2019

What a great tour! Our host Tim has a wealth of knowledge when it comes to wine, food and the local region. The stories and history he tells is so interesting and adds such depth beyond other ordinary tours. The intimate group setting makes for some great dynamics and shared conversations that everyone can enjoy. The selection of venues were brilliant and he accommodated some changes in the itinerary for our group as well. What a great time! Thanks, Tim!

Paul Thompson


12/16/2018

Having been to Swan Valley several times previously I had never been fully aware of the history of the region and the work that goes into making the wine until experiencing the VIP tour. Tim's knowledge, passion, and personality made for a wonderful experience. Highly recommend.

Terry Gilmore


12/15/2018

First of all, I teach wine and travel the world visiting wineries so I have pretty high expectations for wine tours. Tim Stone, the owner of Best of Perth Tours is a knowledgeable wine guy with credentials to back it up. The wineries we visited each had something different to offer and ranged from very small to large. Tim saw that we got personalized attention at all of them and we had plenty of wines to taste. The cheese plate and lunch were both good. I can't say enough good things about Tim and this tour. Go!!!! You won't be disappointed!

Sandra Taylor


12/12/2018

My guests were very pleased with Tim's tour and service. Will definitely engage him for future tours. Keep it up, Tim

kimmy Tan


12/03/2018

Had an absolute great time with Tim (our guide) on the swan valley wine tour. I Have done a few other swan valley wine tours - this one is easily the best. Look no further - this tour is well worth it and you won't be dissapointed.

Matt


11/10/2018

My husband and I recently spent a long weekend in Perth and the absolute highlight was the day we spent wine tasting in the lovely Swan Valley with Tim's Best of Perth Tour! Tim is very personable, knowledgeable about the Valley and it's offerings, passionate about his business and fun loving! He kindly tailored the tour to our preferences as we were lucky enough to have him to ourselves that day and happily played photographer! Everything was perfect, from the behind the scenes wine making experience, to the delectable cheese board for morning tea and wonderful lunch at Houghton Winery, to a picturesque final tasting and delicious glass of tempranillo at Pandemonium Estate! We cannot recommend Tim's Best of Perth Tour enough. If you're lucky enough to find yourself in Perth, you can't go wrong with a tour with Tim. Thanks for a fab day, Tim! -Josie and Luke xx

Josie Senoga


10/29/2018

I went on a tour of the Swan Valley with my brother and a mate and I cannot recommend Tim, our tour guide (and designated driver!), enough. He went above and beyond in every possible way. Any questions we asked about any part of the fermentation process or wine in general, he was able to answer, and when he wasn't, he went and grabbed the OWNER of the winery to personally answer it for us. Tim is friends with workers and owners all around the wineries so you know you are getting the best of the best. He had a fantastic palate and was able to recommend both fantastic wineries and exquisite wines. I am counting down the days until I can book another tour with Tim and Best of Perth Tours. Do yourself a favour and give him a call.

Alex Bruce


10/11/2018

We had done a few Swan Valley tours before but this one definitely stands out. Tim was so knowledgeable on the region, his passion for the history of Swan Valley made the tour really special. We got tours of the wine making process and got to see the best of Swan Valley. We had a great day and definitely recommend this tour.

Kylie McDevitt


9/15/2018
Get to know your
Tour Guide
Born and raised in Perth, your Tour Guide has over 10 years of experience both locally and internationally. Showcasing the very best Perth has to offer, get to know your Tour Guide before you choose your tour company.
LEARN MORE
Adults
---
$ 150 AUD p/p
Ages 18+ years
---
Children
---
$ 90 AUD p/p
Ages 4-17 years
---
Infants
---
$ 50 AUD p/p
Ages 0-3 years
---
Sounds great!
I'm ready to book my tour.
SELECT A DATE BELOW TO GET STARTED
Searching Availability...